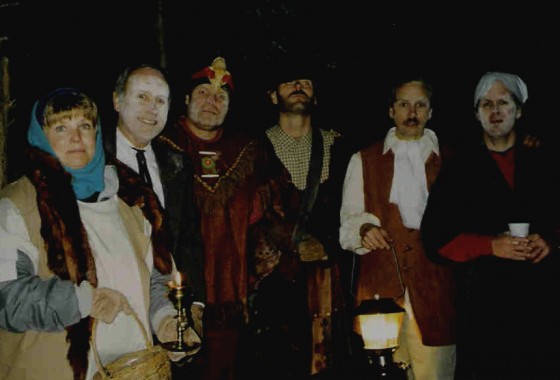 'The Ghosts of Ridgefield' Return to Hemlock Hills
Saturday, October 24, 2014
October is the month of shadows. As Halloween approaches, the spirit world meets the living, and in certain places, ghosts can be seen by mortals. Ridgefield's own Hemlock Hills is one such haunted forest. Lingering here, spirits of Ridgefield's long-ago past appear to all who pass by on the night of "The Ghosts of Ridgefield," Saturday, October 24th.
"The Ghosts of Ridgefield," presented by the Discovery Center at Ridgefield, has become a popular Halloween tradition. Folks who venture into the forest are guided by leaders experienced in finding the legendary figures. Ghostly characters from Ridgefield's past entertain passers-by with their tales and personal stories. Some of our "guests" in past years have included Colonel Brady, Chief Catoonah, the Leatherman, and Sarah Bishop. It remains a mystery who will show up this year. Apple cider and cookies will be served around a campfire to fortify the brave participants.
Reservations are required for this popular program. Tours start at 6:00 P.M., and depart in groups of up to 15 people every 15 minutes. Those with very young children should request the earliest time slot. Admission is $7 for Discovery Center members, and $12 per person for non-members.
To register, and for detailed directions, please contact The Discovery Center at www.ridgefielddiscovery.org, or call (203) 438-1063