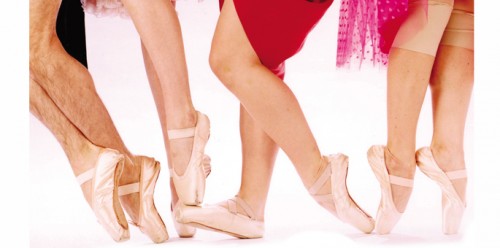 Sat, Dec 6, 2014 @ 8pm; Sun, Dec 7, 2014 @ 3pm
The Bang Group has taken apart every little kid's favorite Christmas show and put it back together in a totally surprising, mind-bending new way. Mixing Tchaikovsky's original score with music by Duke Ellington, Glenn Miller and others, the company turns the sugar-coated ballet into a percussive piece of dance theatre. Expect tap dancing, singing and some unusual pointe shoe activity. Nothing is sacred as Nut/Cracked twists and melds various dance traditions into an ode to American eclecticism which honors the power of the human urge to dance while riding Tchaikovsky's voluptuous waves of rhythm.
ABOUT DAVID PARKER AND THE BANG GROUP
From his early days tap-dancing on the sidewalks of Boston to the award-winning choreography that has recently won him a Fellowship from the John Simon Guggenheim Memorial Foundation, David Parker has always been fascinated by rhythm and the humor that flows from it. Exploring just that relationship has won the Bang Group, the company he directs with his dance partner of 22 years, Jeffrey Kazin, big acclaim and big laughs.
Their other acclaimed works include the notorious velcro duet Slapstuck, winner of the 2002 Bessie Award for Design, ShowDown, a version of Annie Get Your Gun, and Misters & Sisters, called "a splendid evening's entertainment sprinkled with poignancy and politics" (Maura Donohue, Culturebot).
The Bang Group has appeared at Symphony Space, Joe's Pub, Lincoln Center, and many other prestigious venues; they have also been presented eight times by Dance Theater Workshop, now New York Live Arts, and became the only dance company in residence at the West End Theater on Manhattan's Upper West Side. They have appeared on best-of-the-year lists in Boston, Philadelphia, Pittsburgh, Milwaukee, Antwerp, London, and Montreal.
A Co-Presentation by the Emelin Theatre and Larchmont-Mamaroneck Community Counseling Center
ACCOLADES
"Delicious comic pieces." The Star Ledger
"David Parker has rhythm in his bones and his heart on his sleeve. He crafts ingenious sendups of theatrical classics that are both laced with irony and revel in the traditions that made them. Above all, his dances are full of love: of the body's capacity for movement, including funny movement, and people's capacity to make a bungle of things, and then to forgive." The Boston Globe
"How Parker knit the various rhythms, vocabularies, and groups to create a coherent, even inevitable, whole is his secret, like turning straw, rope, and silk into gold lace." Dance View Times
"Intelligent, inspiring and incredibly entertaining." Musical America
"Not only immensely entertaining but also intensely musical and witty, melding tap, disco, ballet and contemporary dance." The New York Times
ARTIST WEBSITE: http://www.thebanggroup.com/
Emelin Theatre
153 Library Lane | Mamaroneck NY 10543 | 914.698.0098Â