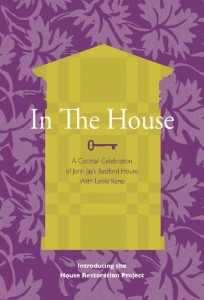 On Saturday, May 2, 2015, Friends of John Jay Homestead will host In the House, a cocktail party highlighting the historic house and collections. Cocktails will be served throughout the period rooms at John Jay Homestead from 6:30-9:00 pm. An exhibit of Jay family photographs will also open that evening. The event is Co-chaired by Michaela Beitzel, Brett Cameron, Leslie Wortmann, and Alex Hamer with Leslie Keno, of Antiques Roadshow fame, as Honorary Chair.
In the House celebrates the 50th anniversary of John Jay Homestead's formal dedication as a public museum and introduces the House Restoration Project, a comprehensive plan addressing much needed interior restorations. The party will also celebrate fifty years of dedicated community support for John Jay Homestead. The community was compelled to rescue the house from demolition fifty years ago and this support is needed today to save and restore the historic rooms of this important American artifact.
Local, community gourmet purveyors and growers are generously donating the food served throughout the evening. In the House will include a silent auction and a live auction hosted by Leslie Keno.
In the House ticket prices will start at $125. Proceeds from this event will benefit the House Restoration Project. For more information, e-mail the Friends at friends@johnjayhomestead.org or call the Friends office at (914) 232-8119.
# # #
John Jay Homestead State Historic Site is one of only a few historic homes in this country once owned by a Founding Father, and open to the public. Friends of John Jay Homestead is a non-profit, educational organization founded in 1977 by local residents. It is New York State's day-to-day partner in providing volunteer assistance and critical funding for the preservation, restoration and interpretation of John Jay Homestead State Historic Site, and for its educational programs.
For more information visit: www.johnjayhomestead.org