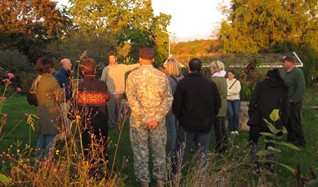 April 19, 2015 @ 10:00 am – 12:00 pm
Hilltop Hanover Farm & Environmental Center 1271 Hanover Street, Yorktown Heights, NY 10598 United States
Have you ever wanted to take a more active role in your food production, or get better connected with the land? Then join us in our new homestead series which will look at many of the things you can do at home to increase your food independence and peace of mind by closing the gap between yourself, your food, and the land. We are offering a series of classes:
Lawn to Garden
Sunday, April 19
10:00 AM – Noon
Foraging
Sunday, May 17
10:00 AM – Noon
Composting 101
Sunday, June 14
10:00 AM – Noon
Backyard Greenhouse
Sunday, July 19
10:00 AM – Noon
Seed Saving
Sunday, August 16
10:00 AM – Noon
Hilltop Hanover Farm and Environmental Center is a working crop farm and environmental education facility located in Yorktown Heights, NY. Formerly a dairy farm, and with roots dating back to the 1600's, today Hilltop Hanover acts as a regional education hub offering programs on healthy and sustainable food production, skills for small-scale suburban and urban farmers, and sustainable living practices for local communities.
The farm features demonstration models for backyard farming, animal management, rainwater harvesting, organic composting, and green-roof technology. Visitors are encouraged to come and hike the farm's 3.5 miles of woodland trails, enjoy a picnic overlooking the property, and visit our chickens and goats. Hilltop Hanover holds numerous classes and lectures, offers seasonal CSA shares, and maintains a farm stand and U-Pick program during the growing season. Hilltop Hanover Farm also offers guided tours, classes, and field trips for school groups, garden clubs, and scout troops.
The farm is committed to donating 10% of annual vegetable production to local food pantries and warmly welcomes volunteers.
Hilltop Hanover Farm and Environmental Center is dedicated to the development and advancement of sustainable agriculture, environmental stewardship, community education, and accessible food systems for all.
For more information visit:Â www.hilltophanoverfarm.org